Kotapay Named to Nacha's 2022 Top ACH Originators List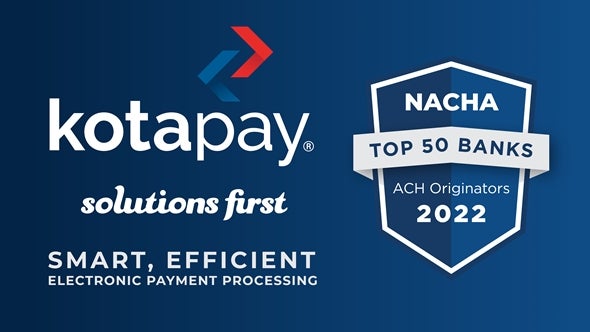 Kotapay ranked #39 on annual Top ACH Originators List for 2022.
Kotapay, First International Bank & Trust's payment department, was recently named to Nacha's Top 50 ACH Originators List for 2022. This recognition marks our second appearance on the annual list and a two-spot increase in placement from 2020.
"It's a tremendous honor to be included on Nacha's Top 50 ACH Originators list alongside such distinguished national and international organizations," said Jim Haug, Director of Kotapay. "Kotapay serves more than 107,000 companies nationwide and processed $99 billion dollars through our organization in 2022, showing the importance of electronic payments."
Click here to see Nacha's full Top 50 list.